Back to all posts
Posted on
Spring is in the air and it is a time of renewal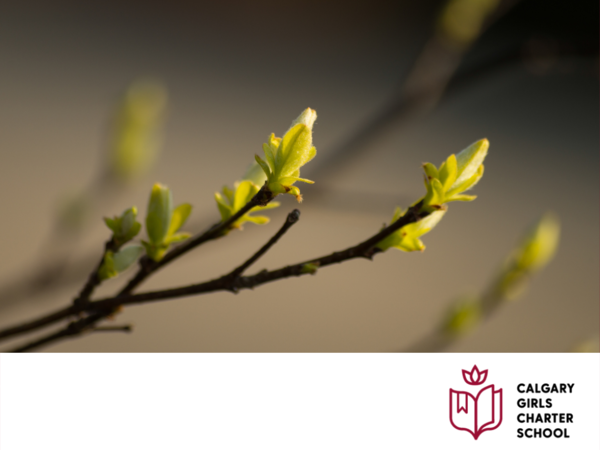 Our Superintendent, Pamela Davidson, reflects on renewal and growth at CGCS 
At this time of year, at CGCS we straddle the strange dual space of the 'now' while focusing intently on the 'next' school year.  As is the case each spring, the development of the School Education Plan for the upcoming year is front of mind; planning for 2022-2023 is fuelled by optimism and faith in our people – students, staff, parents, Directors and community partners.
For over two years, we have been operating in crisis mode. Now, as we develop next year's plan we will reset, reflect, refocus, reconnect, recalibrate and most importantly, renew. It is difficult to completely quantify or capture how the pandemic has impacted our learning community over the past two years.  It is still too raw to be able to objectively assess things. That said, commitment to the day to day work at CGCS has and will never been compromised, despite the challenges we might be navigating. We looked at challenges as opportunities and made the most of them in light of the constraints imposed by the pandemic. Excellence in education has prevailed since March 2020. There is definitely a feeling afoot now, that things are returning to an improved or lighter sense of 'normal' as we reset.  
At CGCS, we have been reflecting deeply on our experiences, the lessons learned, and assessing what is truly most important in our work. There is nothing like a pandemic to help sift and sort what is and is not integral in what we do. In our reflections, it has been clearly reinforced that our relationships are our foundation; we will be explicit in our work next year, as we reconnect, refocusing on those important relationships, recapturing our cultural touchpoints that define us and underpin all our connections. The intentionality of this is key to our emergence from crisis mode and back to a finer sense of community and normalcy.
As we step into this work, we presume we will have to recalibrate. Our plans for the school and our expectations of self and others may have to be readjusted to the post COVID context.  With the dynamic nature of a learning organization – even without the crisis we have endured – recalibrating our approach to the year is prudent as we incorporate our past learning into our new year's focus.  The natural changes in our student population with students graduating and others joining CGCS, the shifts in staff as life events occur, the parents who have partnered with us who may be moving on, or those new to the community, will contribute to the necessary recalibration of our work. In this, opportunities for growth and renewal abound. 
We know we are not alone as we hit the reset button.  We care deeply for one another and know that we will continue to cultivate that sense of community and culture of care of which we are very proud.  With a sense of hope, confidence and renewal, we plot our steps into 2022-2023 and we look forward to learning and working together with all of the members of our CGCS learning organization as we do so.